Sept 27, 2022 – CfP for Methods XVII proceedings
We are delighted to announce that we are inviting submissions to an edited volume to be published with Language Science Press. Details can be found here.
Aug 7, 2022 – and the yound scholar awards go to ...
Johanna Fanta-Jende
Andrin Büchler
Johanna Mechler
Here are the overall and winner's results – thanks to the 70 people who participated!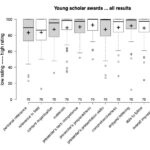 Aug 4, 2022 – reg desk opens at 10:00
On Friday, the registration desk will open from 10:00 to 12:00.
Aug 3, 2022 – Wednesday afternoon orga
gather in the courtyard of Erbacher Hof from 12:30 onwards
we will take you to the bus stop in groups (buses leave from Fischtorplatz)


there will be one local person on each bus

there will be 4 buses in total

another local person will be at the bus stop to help
July 28, 2022 update
we've had a last-minute room change at our venue: all presentation that were scheduled for Haus am Dom are now in St. Hildegard – St. Hildegard is in the main building on the first floor (whereas Haus am Dom would have involved some walking through the city centre)
if you've booked an extra ticket for Wednesday's activities, please check that you have 2 sets of drinks vouchers in your name tag – if not, please see someone at the registration desk asap
we still have tickets available for the Rheinhessen Tour on Saturday (10:00-16:00) at 70 EUR p.p. – you can book tickets until Tuesday at the registration desk
the registration desk will be staffed as follows: Monday & Tuesday: 8:00 – 18:00, Wednesday, Thursday & Friday: 8:30 – 12:00
July 19, 2022 update
July 18, 2022 update (mostly Covid info)
as of today, we've finalised all arrangements - yay!
Some current info regarding Covid-19
safety first – please keep in mind that many (possibly a majority) of our delegates fall within the high-risk group for a severe clinical course of Covid-19 and we're a large international group, so please be diligent and careful, not just for your own sake but for everybody else's!
we're expecting about 150 people Monday through Friday, just fyi as to how full it's going to get
we have 3 large air-conditioned rooms which under non-Covid-rules easily hold 100 ppl each, so we hope we can space out; the plenary room can hold 250 ppl
we strongly advise everyone to wear face masks indoors – ideally, FFP2 or higher! we will leave it up to the speakers what they want to do – we know that presenting while wearing a mask is strenuous, but the rooms all have mikes so you should be fine with your mask on
we have a 90-minute lunch break (except for Wednesday, when we need to leave early for our afternoon/evening programme), so we can space things out a little bit so there are not 150 ppl eating at the same time – take a peak and see how full it is in the restaurant and make sure you're comfortable with the current level of crowdedness; however, PLEASE DO NOT TAKE YOUR LUNCH PLATE OUTSIDE as the restaurant is on the first floor and accidents tend to happen on stairs ... thanks!
the conference dinner venue also has outside seating options plus we can space out – the castle grounds are huge
if you need to stock up on masks before/during the conference, the closest stores to do so are dm (drugstore) and Müller (drugstore) as well as several pharmacies - check out this map for their location respective to our venue Erbacher Hof (bottom right on map)
June 23, 2022 update
the programme is online – we believe we've actually accommodated each and every scheduling request, yay! (so please don't destroy our beautiful programme with new requests 😉 )
unfortunately, some presenters have not sent de-anonymised abstracts but simply re-submitted their anonymous one so that names are not mentioned on the abstract and accordingly, their paper is listed under the name of the person who submitted that abstract – should your team be one of those and want to change that, please submit an abstract WITH NAMES asap to methodsxvii@uni-mainz.de so we can list your talk with all authors' names and link the new abstract
June 20, 2022 update
early-bird registration ende TODAY, so if you don't want to pay 50 EUR more, please register asap
we hope to make a first draft programme available by the end of the week
our plans for a face-to-face meeting ONLY haven't changed and are highly unlikely to at this stage
we recommend that everyone wears masks indoors, though, so be sure to bring some (or buy them in Mainz, there are a number of drugstores in convenient walking distance from the venue – search online maps for Müller or dm)
---
May 30, 2022 update
We're happy to announce that registration is now open - you can find the link and additional info under "Practical" -> "Registration".
May 18, 2022 update
Registration is delayed as we're awaiting news on funding, so please watch this space. We're aiming for May 30 to open registration. Thank you for your patience!
---
April 24, 2022 update
Notifications of acceptance have been sent out – please notify us if you haven't heard from us yet (methodsxvii@uni-mainz.de). We hope we can open registration on Monday, May 16, 2022 – we are still waiting for confirmation and details on some options so please bear with us!
---
April 14, 2022 update
reviews are in, we are about to send out noticifactions of acceptance for the main session
authors of accepted papers: please submit your de-anonymised abstract (including references) by May, 15 (details in acceptance email)
registration will start soon after, but not before (mid-)May
website has been updated with all sorts of info, have a look around
currently, we are planning a face-to-face meeting (we might still have to wear masks inside though, but no one can predict what will happen till August)
fyi: because of the insecurities linked to the pandemic and world situation, we will have to enforce strict cancellation policies (based on our venue's rules)
---
August 1, 2021 update
+++ See "Calls & Circulars" for the Second Call for Papers +++
The Methods local organizing committee in conjunction with the Methods steering committee has decided to postpone Methods XVII by another year to 2022. Once more, we will aim for the first week of August (Aug. 1 to Aug. 5, 2022).
Given that 2 years will have passed by the time the conference can hopefully take place in summer 2022, we will send out a new series of calls for papers within the usual time frame, starting sometime in late spring/early summer.
Those already accepted for 2020 will be able to either
a) carry over their abstracts unchanged (if that is feasible/makes sense for them) or
b) adapt abstracts slightly for resubmission (but same topic overall) or
c) submit something completely new. Details on the procedure will be published with the new call for papers.
The theme for Methods XVII is (Dia)Lects in the 21st Century.